Remarks: Australians have completed the WEF's Young Global Leaders program. Many of them are wealthy, well-connected and unelected — but are playing an outsized influence on the future trajectory of our country. It is in the interest of every Australian to be aware of the Davos disciples who are shaping Australia, On its website, the WEF boasts that Hanson-Young is "one of the country's leading voices on women in politics, refugees, immigration and human rights policy" with a strong commitment to a "progressive, safe and sustainable global community". FULL STORY HERE: https://www.4cmitv.com/2022/07/12/2022-jun-23-meet-australias-davos-disciples-5-meet-australias-green-davos-disciple-meet-sarah-hanson-young/
---
BACKGROUND HEADLINES: Meet key players linked to the World Economic Forum.
Introducing you to those who are key players or heavily connected to Klaus Schwab's World Economic Forum we begin with those who hold considerable sway in Australia.
By guest contributor Kurt Mahlburg
In recent years, the unwillingness of governments to listen to common sense and the lockstep virtue-signalling of global corporations are some of the more obvious signs of a rising outside influence over Western democracies.
The most prominent organisation seeking to impose a globalist agenda on nation states is the World Economic Forum (WEF), which recently held its annual meeting in Davos, Switzerland.
WEF founder and Chairman Klaus Schwab has become something of an internet meme for his Bond-villain-like outfits and his boast of WEF's ability to "penetrate the cabinets" of national governments through their Young Global Leaders alumni.
ANTI-CAPITALIST, ANTI-FREE MARKET
As Senator for South Australia Alex Antic warned Parliament last year 2021, the WEF might lobby on issues such as climate change, so-called systemic racism and sexism and creating an online digital identity.
However, "closer inspection reveals the World Economic Forum is an anti-capitalist, anti-free market organisation that seeks to subvert Western values and political processes".
Over 20 Australians have completed the WEF's Young Global Leaders program.
Dozens more have attended Davos summits and have made key contributions to WEF policies and initiatives.
Many of them are wealthy, well-connected and unelected — but are playing an outsized influence on the future trajectory of our country.
It is in the interest of every Australian to be aware of the Davos disciples who are shaping Australia.
Another Australian politician is linked to the World Economic Forum.
Yet again, we continue our popular series of biographies on key people linked to Klaus Schwab's World Economic Forum (WEF) that you may not have ever heard of but that hold considerable sway in our society.
And with the energy security crisis enveloping Australia due to its adoption of extreme green policies on climate change, you can bet Schwab and his WEF cronies have a hand it in somewhere.
Indeed they do.
Today's focus is on a Davos disciple who you will know.
This one sits in the Australian Parliament.
And they're a member of the socialist party that masquerades as environmentalists called the Australian Greens.
Meet Sarah Hanson Young
Contributed by Kurt Mahlburg
The Senator for South Australia, Sarah Hanson-Young, is a poster child for so-called 'progressivism'.
(George's note: In my opinion, a more apt term is cultural Marxism!)
Born and raised in Melbourne but now based in Adelaide, in 2007 Hanson-Young became the youngest woman, at 25 years of age, to be elected to the Australian parliament.
Prior to her time in office representing the Australian Greens, Hanson-Young worked as a campaign manager for Amnesty International, a campaigner with Justice for Refugees, and as a media adviser for SA Greens leader Mark Parnell.
Sarah Hanson-Young has lost several leadership spills for the role of deputy leader of the Australian Greens.
While they didn't elect her as their Deputy, the Greens congratulated Hanson-Young on becoming a WEF Young Global Leader.
Earlier this year, Hanson-Young married Ben Oquist, executive director of left-wing thinktank The Australia Institute.
Oquist has appeared in the Australian Financial Review's 'Covert Power' list of the 20 most powerful people in Australia.
Hanson-Young's voting record would have any globalist grinning.
She has voted for and/or supported higher taxes, bigger government, an expanded welfare state, and a deindustrialised green utopia.
Hanson-Young has also backed policies that, in the opinion of Nation First, have harmed or would have harmed nation, family and faith.
This is seen in her support for legalised narcotics, euthanasia, abortion, the LGBT agenda and her opposition to religious freedom, school chaplaincy funding and Australia Day.
Hanson-Young is an ardent proponent of left-wing, taxpayer-funded media outlets ABC and SBS.
At the same time, she has long campaigned for so-called "media diversity and reform" which would ironically see an end to any remaining conservative influence in Australia's media landscape.
Klaus Schwab's World Economic Forum (WEF) has noticed Sarah Hanson-Young's activism and awarded her for it.
The WEF made her a Young Global Leader in 2016 — a badge she still wears proudly across her social media channels.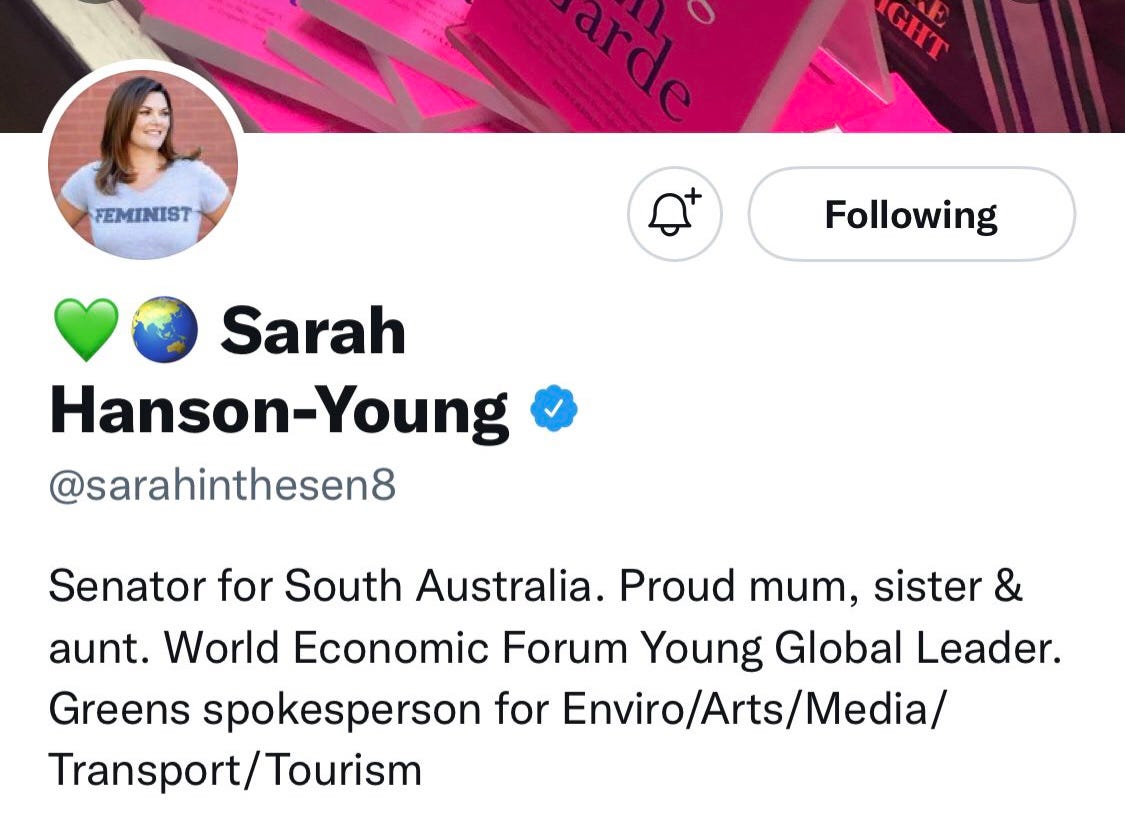 Hanson-Young has also repeatedly disseminated WEF propaganda on her Facebook page.
Seemingly such a fan of the Davos agenda is Hanson-Young, that she paid her own fares to the 2018 Davos summit.
She also attended the WEF-backed COP26 Glasgow climate conference last year where she rubbed shoulders with the who's who of climate alarmists.
On its website, the WEF boasts that Hanson-Young is "one of the country's leading voices on women in politics, refugees, immigration and human rights policy" with a strong commitment to a "progressive, safe and sustainable global community".
Klaus is obviously very happy with Sarah's achievements. 
4CM DISCLAIMER: in publishing this DOES NOT MEAN 4CM is VERIFYING the VERACITY OF THE CONTENT. We are just making you aware of Data. That has been Dropped on the net. to enable facilitate healthy investigations of the truth, which our reader/viewers maybe pursuing 
---
---
ORIGINAL SOURCE: Date-stamped: 2022 JUN 23 - Author: Kurt Mahlburg - Article Title: Meet Sarah Hanson Young - Article Link: nationfirst.substack.com
---
Unlike many news and information platforms, 4cminews is free to read, and always will be. There is no paywall here. We are independent, not affiliated with nor representing any political party or business organisation. We want the very best for our readers, nothing more, nothing less. Your support will help us continue to provide factual News about world events and Global Agenda's.
You can contribute here. Thank you.
---
A Guide to Home-Based COVID Treatment.
Step-By-Step Doctors' Plan That Could Save Your Life
Download Free Booklet updated 2022FEB02 :
An educational resource from (AAPSonline.org) The Association of American Physicians and Surgeons
Please also watch the companion videos:
1) by Dr. Elizabeth Lee Vliet
2) by Dr. Peter McCullough